Welcome to the Eville Press page. You can find an archive with all content at the bottom of the page.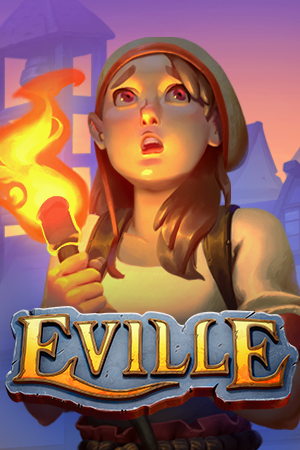 Eville is a murder mystery social deduction game inspired by the popular cardgame Werewolves.
You take on the role of either a villager in which case you need to try and unravel the mystery behind the series of murders happening in your village. Otherwise you play as the conspirator walking amongst these villagers.
Your objective is to create chaos by murdering innocent citizens and turning one against the other. The game can be won by either capturing and executing the murderer(s) or eliminating all villagers. One of each camps has to be eliminated.
Each day villagers decide on a suspect and execute it until all evil-doers were found. Each night however the conspirators gather and decide to murder another innocent villager until they take over the village.
You play as a random role and have no idea who is on your side. Find out who is the enemy with the help your role's unique abilities and your social skills!
This is a new take on social deduction gaming with realtime gameplay, and completely 3rd person, with free roaming, for increased immersion.
After taking on the role of a citizen or conspirator, you're able to explore the town. Do your deeds when no one is watching. Place wards to observe other players or tread through the village to visit any house and go on a killing spree. It is your task to communicate with other players and prove your innocence, use your unique role abilities to your advantage and try to manage both, because time is limited!
Eville is meant to be played online as a casual (party) game with friends or strangers in groups of 4-15 players. Eville features an in-game lobby mechanism that enables strangers to play with one another as well as password protected lobbies for private sessions.
The game is a mix of social deduction which relies heavily on communication both text and voice chat as well as actual gameplay using the unique abilities given to each player who plays a unique role.
Tactics and coordination are key.
VestGames is an indie game development studio located in the Ruhr area of Germany that was founded in 2020 to complete development on their debut title, the social deduction game Eville, for which development began in 2019.